BGA Studio: Online Board Game development platform
Getting started
4 slideshare presentations to get ready to use BGA Studio in 30 minutes:


Reference Documentation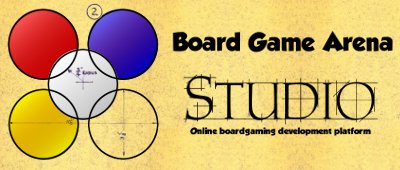 Note: Please DO NOT translate Studio Documentation, so that there can be one place where you can find the latest information available.
Discover BGA Studio in 5 presentations
Why, how, what... to start discovering BGA Studio, we prepared 5 "powerpoint" presentations for you:
Great, I'm in! ... How should I start?
If you didn't already, check the presentations at the top of this page to get the basics.
Then, you should checkout the First steps with BGA Studio to make sure that runs fine.
After that, we advise you to take a peek at one of these game creation tutorials:
Then start editing files and see what happens! ;)
If you have any questions, please check out the Studio FAQ first, then if you didn't find the answer you were looking for, please post your question on the development forum.
BGA Studio documentation
BGA Studio Framework reference
This part of the documentation focuses on the development framework itself: functions and methods available to build your game.
Game logic (Server side)
Game interface (Client side)
Other components
BGA Studio game components reference
Game components are useful tools you can use in your game adaptations.
BGA Studio user guide
This part of the documentation is a user guide for the BGA Studio online development environment.
Join BGA Studio developer team
To start developing on BGA Studio and get access to development environment, you need to create an account below.

Personal infos provided in this form is NOT shown to anyone but BGA Studio admin, and is NOT used for any other purpose that BGA Studio organization.
In general I like the project structure on BGA, exception it does not includes which is really bummer for large projects.
I propose to add few extensions and new rules

"modules" - allow this directory on top level, it can contain includes files for .php, .js and .css, files contained in this directory will be also published to production as part of game, if need be we can limit this to 20 files
"misc" - allow this directory on top level, it can contain any other source and text files which will be checked in in svn but won't be copied to production, it can contains notes, docs, tools, tests, data files, etc
- any other files or folder outside of structure won't be checked (but can be synced to staging as now)
"img" - limit number of image files to lets say 20 and lets size to 5mb each (or in 15 in total), that will force use of sprites and compression

Thoughts?
Since this morning and without changing anything I see when I launch my games on the studio:

Deprecated: Methods with the same name as their class will not be constructors in a future version of PHP; foo has a deprecated constructor in example.php on line 3

Have you updated something on the php?
When I joined originally, I read on bga wiki that you "start a new project or join existing project".
Coming from open source community I though joining is a good idea, but later I realised that
its not really possible with bga studio, for multiple reasons. Lately I asked Een about what can we do to make it possible,
but solutions seems to be very technically involved and may be not justifiable. So the question
for activate developers, do we need such feature? Or games are really so small that another persons "help"
would be anti-productive? And if studio would support shared code developer what is the most important thing to have?