BGA Studio: Online Board Game development platform
Getting started
4 slideshare presentations to get ready to use BGA Studio in 30 minutes:


Reference Documentation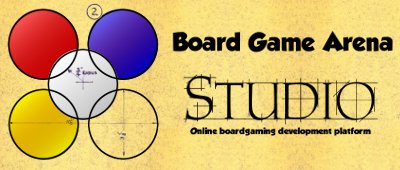 Note: Please DO NOT translate Studio Documentation, so that there can be one place where you can find the latest information available.
Discover BGA Studio in 5 presentations
Why, how, what... to start discovering BGA Studio, we prepared 5 "powerpoint" presentations for you:
Great, I'm in! ... How should I start?
If you didn't already, check the presentations at the top of this page to get the basics.
Then, you should checkout the First steps with BGA Studio to make sure that runs fine.
After that, we strongly advise you to take one of these game creation tutorials:
Then start editing files and see what happens! ;)
If you have any questions, please check out the Studio FAQ first, then if you didn't find the answer you were looking for, please post your question on the development forum.
BGA Studio documentation
BGA Studio Framework reference
This part of the documentation focuses on the development framework itself: functions and methods available to build your game.
Game logic (Server side)
Game interface (Client side)
Other components
BGA Studio game components reference
Game components are useful tools you can use in your game adaptations.
BGA Studio user guide
This part of the documentation is a user guide for the BGA Studio online development environment.
Join BGA Studio developer team
To start developing on BGA Studio and get access to development environment, you need to create an account below.

Personal infos provided in this form is NOT shown to anyone but BGA Studio admin, and is NOT used for any other purpose that BGA Studio organization.
I'm getting this error when I try to commit my changes:

Updating '/var/tournoi/games/rememberwhen':
Skipped '/var/tournoi/games/rememberwhen/rememberwhen.js' -- Node remains in conflict
Skipped '/var/tournoi/games/rememberwhen/material.inc.php' -- Node remains in conflict
At revision 23961.

How do I resolve this?
Brederic, our programmer for the BGA version of Remember When, has pushed out an update to the game with new artwork, cards, corrections, bug fixes, etc. But it is not showing up here in the live version of BGA yet. Might it be waiting for a server update of some kind? Are there additional steps we need to take?

Thanks for your help.
I can't find any information on the rules or implications for hosting a game on BGA - can anyone help?

I am not an existing game publisher, but belong to a club that plays a rather unique but simple board game. The club has about 1000 members and all say they would be interested in playing online, as we're geographically distributed - so we are thinking about clubbing together (no pun intended) and getting the game designed for BGA using one of your existing developers.

Is there anyway we have recoup our costs developing the game, so that new members to our club can somehow reimburse the existing members for their investment? And are there any rules about how frequently the game must be played or costs for hosting our game on BGA once it is developed and hosted?

Anything else we should consider?

All help gratefully received.
Jon