Welcome to Board Game Arena's online development platform!
Getting started
4 slideshare presentations to get ready to use BGA Studio in 30 minutes:


Reference Documentation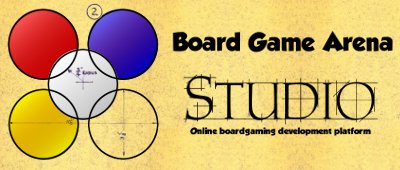 Note: Please DO NOT translate Studio Documentation, so that there can be one place where you can find the latest information available.
Discover BGA Studio in 5 presentations
Why, how, what... to start discovering BGA Studio, we prepared 5 "powerpoint" presentations for you:
Great, I'm in! ... How should I start?
If you didn't already, check the presentations at the top of this page to get the basics.
Then, you should checkout the First steps with BGA Studio to make sure that runs fine.
After that, we strongly advise you to take one of these game creation tutorials:
Then start editing files and see what happens! ;)
Once you done with tutorials, you can start a real game (or join existing project)
If you have any questions, please check out the Studio FAQ first, then if you didn't find the answer you were looking for, please post your question on the development forum.
BGA Studio documentation
BGA Studio Framework reference
This part of the documentation focuses on the development framework itself: functions and methods available to build your game.
Game logic (Server side)
Game interface (Client side)
Other components
BGA Studio game components reference
Game components are useful tools you can use in your game adaptations.
Undocumented component (if somebody knows please help with docs)
BGA Studio user guide
This part of the documentation is a user guide for the BGA Studio online development environment.
Join the BGA Studio developers team
To start developing on BGA Studio and get access to development environment, you need to create an account below.

Personal infos provided in this form is NOT shown to anyone but BGA Studio admin, and is NOT used for any other purpose that BGA Studio organization.
Hi everyone,
I uploaded an image that is not working because of a French special character (é) in the image name.
When I try to delete this image while editing the Sandbox game by editing the appearance of an object with the image manager, I got an error message:
"Unexpected error: Bad argument type: image should be a file name (xxxéxx.jpg)"

Is there a way to access directly the images repository of a Sandbox game to hard delete this image?

I could keep up with this wrong name but now everytime I load my game I have an error message "Can't load image: xxxéxx.jpg", which is particularly annoying.
Dear all,
We performed a full review of the way random is addressed on BGA adaptation.
We found that the situation is quite good, but we think that on this subject we must be absolutely flawless: it happens several times that players criticize BGA randomness, and this is far more easy to answer them with a clear policy on this.
A new section has been added to the documentation about this:
http://en.doc.boardgamearena.com/Main_g ... randomness
The main changes for you are the following:
From now, the use of "bga_rand( min, max )" is

mandatory

for dice. rand(), mt_rand() and random_int() must be avoided.
Mysql "rand()" function (ex: "ORDER BY RAND()") should be avoided as it does not provide enough randomness.
Please do not hesitate to ask if anything is unclear.