BGA Studio: Online Board Game development platform
Getting started
4 slideshare presentations to get ready to use BGA Studio in 30 minutes:


Reference Documentation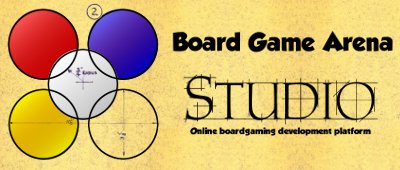 Note: Please DO NOT translate Studio Documentation, so that there can be one place where you can find the latest information available.
Discover BGA Studio in 5 presentations
Why, how, what... to start discovering BGA Studio, we prepared 5 "powerpoint" presentations for you:
Great, I'm in! ... How should I start?
If you didn't already, check the presentations at the top of this page to get the basics.
Then, you should checkout the First steps with BGA Studio to make sure that runs fine.
After that, we strongly advise you to take one of these game creation tutorials:
Then start editing files and see what happens! ;)
If you have any questions, please check out the Studio FAQ first, then if you didn't find the answer you were looking for, please post your question on the development forum.
BGA Studio documentation
BGA Studio Framework reference
This part of the documentation focuses on the development framework itself: functions and methods available to build your game.
Game logic (Server side)
Game interface (Client side)
Other components
BGA Studio game components reference
Game components are useful tools you can use in your game adaptations.
BGA Studio user guide
This part of the documentation is a user guide for the BGA Studio online development environment.
Join BGA Studio developer team
To start developing on BGA Studio and get access to development environment, you need to create an account below.

Personal infos provided in this form is NOT shown to anyone but BGA Studio admin, and is NOT used for any other purpose that BGA Studio organization.
Per
http://en.doc.boardgamearena.com/Browser_support
, apparently our games are supposed to support IE 9 (
I had to modify the page to at least mention IE 11 instead of IE 9). But I do understand it's desirable to support current (near current) versions of all major browsers (Chrome/Safari, Firefox, Edge, and IE 11).
Sites like
https://netmarketshare.com/
and
http://gs.statcounter.com/
show general browser usage for the Internet at large, but I'm wondering about the usage profile for BGA website specifically. It would be interesting if the admins could provide a browser usage profile specifically for BGA. Is it similar to these general numbers?
If I know that my game doesn't support a particular browser, what is the best way to indicate this? Is there a way to show a message before the game begins? Is there a preferred method to block these users from accessing the game?
Is there any way to know who is a spectator of my game? Any way to send notification to the spectators other than
notifyAllPlayers()
?
I have a scenario where I want to notify some players & all spectators. Is there way to do this, or do I need to send to all with parameter like 'ignore' => array( $player1, $player2 ) to handle on client side?
I think I'm seeing a bug related to notification order of "history_history" messages?
I tried states like this:
Code: Select all
game (notifyAllPlayers send #1)
-> activeplayer (notifyPlayer send #2)
-> game (notifyAllPlayers send #3)

OR

game (notifyAllPlayers send #1, notifyPlayer send #2)
-> activeplayer
-> game (notifyAllPlayers send #3)

In both cases, live play works correctly and notifications come in proper order (1, 2, 3). But if I refresh the page (refresh sends "history_history" instead of true notifications), the order is wrong as (2, 1, 3). Can it be fixed?
(At first I thought it was related to sending notification from 'activeplayer' state, but I tried sending both notifications #1 and #2 together from same game state and still bug.)
Maybe it is because notification #1 is public and notification #2 is private?