Welcome to Board Game Arena's online development platform!
Getting started
4 slideshare presentations to get ready to use BGA Studio in 30 minutes:


Reference Documentation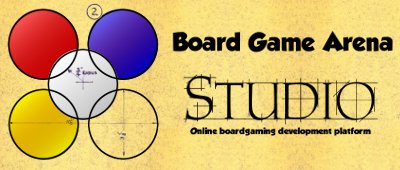 Note: Please DO NOT translate Studio Documentation, so that there can be one place where you can find the latest information available.
Discover BGA Studio in 5 presentations
Why, how, what... to start discovering BGA Studio, we prepared 5 "powerpoint" presentations for you:
Great, I'm in! ... How should I start?
If you didn't already, check the presentations at the top of this page to get the basics.
Then, you should checkout the First steps with BGA Studio to make sure that runs fine.
After that, we strongly advise you to take one of these game creation tutorials:
Then start editing files and see what happens! ;)
Once you done with tutorials, you can start a real game (or join existing project)
If you have any questions, please check out the Studio FAQ first, then if you didn't find the answer you were looking for, please post your question on the development forum.
BGA Studio documentation
BGA Studio Framework reference
This part of the documentation focuses on the development framework itself: functions and methods available to build your game.
Game logic (Server side)
Game interface (Client side)
Other components
BGA Studio game components reference
Game components are useful tools you can use in your game adaptations.
Undocumented component (if somebody knows please help with docs)
BGA Studio user guide
This part of the documentation is a user guide for the BGA Studio online development environment.
Join the BGA Studio developers team
To start developing on BGA Studio and get access to development environment, you need to create an account below.

Personal infos provided in this form is NOT shown to anyone but BGA Studio admin, and is NOT used for any other purpose that BGA Studio organization.
Serait-il possible de développer le jeu Barony sur Board game arena?
Hi everybody
I don't want to be polemic here whatsoever, but I have some doubts about the "randomless quality" of the shuffle method on a Deck component.
(If that ever means anything, true randomless cannot be achieved on a computer science).
Indeed, I feel that unbalanced distribution tends to occur more often than it would in reality (won't say it's impossible though, still proba).
For example in these two card-based games:
French Tarot: when a bout happens to be in the Kitty, I have the impression (and not just me) that this has great odds to occur again in the same game.
Tock (not published officially yet, currently in alpha mode): I have reports that in 5 or 6 player games, some players did not receive an Ace nor a King in their hands 4, 5, 6 up to 7 times a row (4 cards being picked at each round by each player, all cards being gathered and shuffled when the deck is empty). This situation is quite rare, if ever seen, IRL.
I would like to run some programmatic tests using the Studio in order to assess the results given by the method simulating a great number of shuffles, to know if there is any bias or if that is just my idea. But I could not find on the web relevant algorithms I could apply in that situation. Would you have any ideas of some experiments I could run to have objective figures?
Thanks a lot! Do not hesitate if I am not clear...
Cheers,
Woodruff
I don't believe these 2 functions are working well together.
https://imgur.com/a/1Pti3jA
In the sIde-by-side screenshot:
The left-hand-side has no setOverlay call, while the right-hand-side does.
All the stock items have centerItems set to true.
I've added blue rectangles from css border so you can see the stock items width.
You can see the 'played' box has just 1 card and the is shifted to the right.
When there are many cards like the burnt pile, again it is shifted to the right.
The hand has no setOverlap call and is OK.