Welcome to Board Game Arena's online development platform!
Getting started
4 slideshare presentations to get ready to use BGA Studio in 30 minutes:


Reference Documentation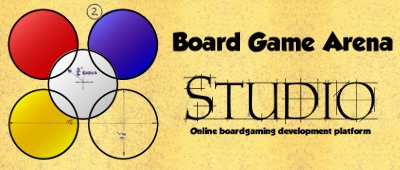 Note: Please DO NOT translate Studio Documentation, so that there can be one place where you can find the latest information available.
Discover BGA Studio in 5 presentations
Why, how, what... to start discovering BGA Studio, we prepared 5 "powerpoint" presentations for you:
Great, I'm in! ... How should I start?
If you didn't already, check the presentations at the top of this page to get the basics.
Then, you should checkout the First steps with BGA Studio to make sure that runs fine.
After that, we strongly advise you to take one of these game creation tutorials:
Then start editing files and see what happens! ;)
Once you're done with tutorials, you can start a real game (or join existing project)
If you have any questions, please check out the Studio FAQ first, then if you didn't find the answer you were looking for, please post your question on the development forum.
BGA Studio documentation
BGA Studio Framework reference
This part of the documentation focuses on the development framework itself: functions and methods available to build your game.
Game logic (Server side)
Game interface (Client side)
Other components
BGA Studio game components reference
Game components are useful tools you can use in your game adaptations.
Undocumented component (if somebody knows please help with docs)
Reference for classes in game class hierarchy
BGA Studio user guide
This part of the documentation is a user guide for the BGA Studio online development environment.
Join the BGA Studio developers team
To start developing on BGA Studio and get access to development environment, you need to create an account below.

Personal infos provided in this form is NOT shown to anyone but BGA Studio admin, and is NOT used for any other purpose that BGA Studio organization.
The active player had a look to an adjacent room.
He put a memory token on that room.
He couldn't end its turn, no action were available.
The room disabling communication was revealed and occupied.
The url of the game :
https://boardgamearena.com/6/roomtwenty ... =142123079
I'm adding new user preferences and additional statistics. Logically, it makes sense to group certain statistics together, but if I keep the existing stat ids and order then the new statistic will be added to the end, far apart from the other related stats. Is there a way to keep the existing ids but change the displayed order? Similar question for user preferences - it makes sense to have certain preferences next to each other. Is it OK to change their ids?
Let's say you have a table that show some strings :
(from ###.game.php )
CODE: Select all
$this->notifyAllPlayers( "tableWindow", '', array(
    "id" => 'finalScoring',
    "title" => clienttranslate("Result of this round"),
    "table" => array( array( "one", "two"  ), array( "three", "four" ) ),
    "closing" => clienttranslate( "Ok" )
) ); 

and some "1 2 3 4" images in a "numbers.png" file in the img folder (like 40*40 pixels in a 160*40 pixels file )
Is there an easy way to put the images in place of the strings?