Welcome to Board Game Arena's online development platform!
Getting started
4 slideshare presentations to get ready to use BGA Studio in 30 minutes:


Reference Documentation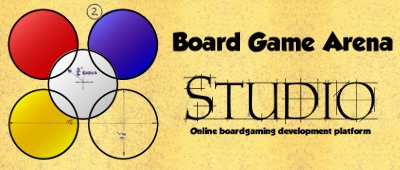 Note: Please DO NOT translate Studio Documentation, so that there can be one place where you can find the latest information available.
What is Board Game Arena Studio?
Board Game Arena Studio is a platform to build online board game adaptations using the Board Game Arena platform.
It is open to any gamer with software development skills :)
BGA Studio website: https://studio.boardgamearena.com
Original announcement on BGA forum: https://forum.boardgamearena.com/viewtopic.php?f=10&t=1973
Discover BGA Studio in 5 presentations
Why, how, what... to start discovering BGA Studio, we prepared 5 "powerpoint" presentations for you:
How to join the BGA developer team?
Please see this page: How to join BGA developer team?
Great, I'm in! ... How should I start?
If you didn't already, check the presentations at the top of this page to get the basics.
Then, you should checkout the First steps with BGA Studio to make sure that runs fine.
After that, we strongly advise you to take one of these game creation tutorials:
Then start editing files and see what happens! ;)
Once you're done with tutorials, you can start a real game (or join existing project)
If you have any questions, please check out the Studio FAQ or Contact BGA Studio.

To search wiki pages on studio enter this text in search bar:
 "Category:Studio" white rabbit 

That is if you want to search for white rabbit
BGA Studio documentation
BGA Studio Framework reference
This part of the documentation focuses on the development framework itself: functions and methods available to build your game.
Game logic (Server side)
Game interface (Client side)
Other components
BGA Studio game components reference
Game components are useful tools you can use in your game adaptations.
JS:
PHP:
Deck: a PHP component to manage cards (deck, hands, picking cards, moving cards, shuffle deck, ...).
Reference for classes in game class hierarchy
Table: a PHP class that you inherit from for the game php
BGA Studio user guide
This part of the documentation is a user guide for the BGA Studio online development environment.
Lifecycle

Tools and Advice
Sharing
Software Versions
Versions currently used by BGA framework:
PHP Extensions Used
The following PHP extensions are - as of May 8th, 2022 - in use in BGA Studio and available:
date, libxml, openssl, pcre, zlib, filter, hash, Reflection, SPL, session, standard, sodium, apache2handler, mysqlnd, PDO, xml, apcu, bz2, calendar, ctype, curl, dom, mbstring, FFI, fileinfo, ftp, gd, gettext, gmp, iconv, igbinary, json, exif, msgpack, mysqli, pdo_mysql, apc, posix, readline, shmop, SimpleXML, sockets, sysvmsg, sysvsem, sysvshm, tokenizer, v8js, xmlreader, xmlwriter, xsl, zip, Phar, memcached, Zend OPcache
Other resources
Bug tracking system FOR STUDIO issues and APIs
DISCORD chat server/room invite link https://discord.gg/YxEUacY if it does not work check this topic https://forum.boardgamearena.com/viewtopic.php?f=12&t=17403&hilit=discord
Developer BLOGS https://bga-devs.github.io/blog/
Join the BGA Studio developers team
To start developing on BGA Studio and get access to development environment, you need to create an account below.

Personal infos provided in this form is NOT shown to anyone but BGA Studio admin, and is NOT used for any other purpose that BGA Studio organization.
Hi all,

I just arrived on BGA studio, I read the docs and tried to play around by creating a project.
And.... I feel stupid to ask this because there is something obvious that I am missing... but I did not find where I can get the ftp info to get and sync the game files...

Where do I get the ftp address and credentials?

Thanks,

Ystvan
After doing some programming using Notepad++ and the FTP Plugin I wanted to use a more professional approach.
Since I have already experience with VS Code from the work I decided to use that. I went to the documentation and followed the instructions from
https://en.doc.boardgamearena.com/Setti ... ing_VSCode
.
Now I'm stuck with an error message in the ???.game.php file of an "undefined property" which is created/defined in the material.inc.php.
I know that on the BGA server everything is working, but I wondered if there is anything I can do in VS code. Does anyone know?
Dear BGA developer community,
I am Channing Jones from Seajay Games, and I have just granted BGA a license to my space 4X game "Galactic Era" on this platform, so now I'm looking for developers.
I would be willing to also send a physical copy of the game for free to any developer who would make the BGA adaption.
Galactic Era is an epic space civilization board game about exploration, expansion and combat. It is a unique, holistic game design with great strategic depth, yet also highly thematic.The most innovative feature of the game is that you can choose an alignment for your faction. You can play as the "dark" or the "light" side with the appropriate consequences. You can switch your alignment during the game, too. Also the amount of luck involved in this game is very low. No dice are used for combat. The game also has technology trading, which is unique to this genre. The game is for 1-6 players, ages 14 and up. Playing time is about 3 hours.
You can check out the game here (or on BGG):
https://galacticera.net/
You can also download the rulebook frome there.
You can contact me here:
admin@galacticera.net