Welcome to Board Game Arena's online development platform!
Getting started
4 slideshare presentations to get ready to use BGA Studio in 30 minutes:


Reference Documentation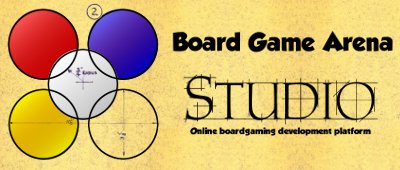 Note: Please DO NOT translate Studio Documentation, so that there can be one place where you can find the latest information available.
Discover BGA Studio in 5 presentations
Why, how, what... to start discovering BGA Studio, we prepared 5 "powerpoint" presentations for you:
Great, I'm in! ... How should I start?
If you didn't already, check the presentations at the top of this page to get the basics.
Then, you should checkout the First steps with BGA Studio to make sure that runs fine.
After that, we strongly advise you to take one of these game creation tutorials:
Then start editing files and see what happens! ;)
Once you done with tutorials, you can start a real game (or join existing project)
If you have any questions, please check out the Studio FAQ first, then if you didn't find the answer you were looking for, please post your question on the development forum.
BGA Studio documentation
BGA Studio Framework reference
This part of the documentation focuses on the development framework itself: functions and methods available to build your game.
Game logic (Server side)
Game interface (Client side)
Other components
BGA Studio game components reference
Game components are useful tools you can use in your game adaptations.
Undocumented component (if somebody knows please help with docs)
BGA Studio user guide
This part of the documentation is a user guide for the BGA Studio online development environment.
Join the BGA Studio developers team
To start developing on BGA Studio and get access to development environment, you need to create an account below.

Personal infos provided in this form is NOT shown to anyone but BGA Studio admin, and is NOT used for any other purpose that BGA Studio organization.
Looking at a few existing games, I see boards roughly 800 pixels wide, maybe a little more, by about 600 pixels high, maybe a little more.
There are two competing design goals here: portability across platforms, from cell phones to 4K monitors, and providing the best reolution a given user can obtain. A natural solution would be to provide more than one set of images, and choose the best a given screen can provide.
I have four questions.
Is it possible on this server to provide a choice of board display sizes for a given game?
Can this server detect the screen limitations for a given user, or should the game developer let the user choose which size to use?
What sizes are recommended for cell phones, tablets, and PCs?
Is there an absolute upper limit that I should not exceed, even if I offer smaller size options?
Thanks very much in advance.
Dear BGA Studio developers,
This beginning of the year, we are introducing something new on BGA Studio:
Bounty Hunting
! There is now
153 games
online on BGA (wow!). But there is still only
2 admins
(yes, really!). Over time, some developers can't always continue maintaining their games for various reasons (life!) and sure, sometimes the games are perfect, but most of the time some
bugs are still hiding
in the corners!
Of course, admins alone cannot maintain such a big number of games.
So we decided to
offer a bounty
for squashing bugs. This bounty is paid in
months of Premium membership
subscription. We usually offer a Premium subscription to developers who complete a game for release on BGA, but there is a lot of developers registered on the studio: we hope than some developers who don't have the time to do a full game can still be
interested in fixing bugs
. We'll see!
So there is now a "Bounty hunting" menu entry leading to the
bounties page
listing the
top voted reports to handle
. Let's clean up the Wild West!
https://studio.boardgamearena.com/#!bounties