Welcome to Board Game Arena's online development platform!
Getting started
4 slideshare presentations to get ready to use BGA Studio in 30 minutes:


Reference Documentation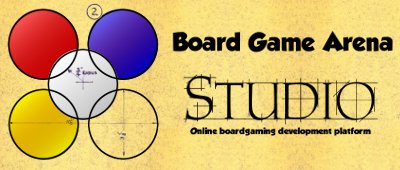 Note: Please DO NOT translate Studio Documentation, so that there can be one place where you can find the latest information available.
Discover BGA Studio in 5 presentations
Why, how, what... to start discovering BGA Studio, we prepared 5 "powerpoint" presentations for you:
Great, I'm in! ... How should I start?
If you didn't already, check the presentations at the top of this page to get the basics.
Then, you should checkout the First steps with BGA Studio to make sure that runs fine.
After that, we strongly advise you to take one of these game creation tutorials:
Then start editing files and see what happens! ;)
Once you done with tutorials, you can start a real game (or join existing project)
If you have any questions, please check out the Studio FAQ first, then if you didn't find the answer you were looking for, please post your question on the development forum.
BGA Studio documentation
BGA Studio Framework reference
This part of the documentation focuses on the development framework itself: functions and methods available to build your game.
Game logic (Server side)
Game interface (Client side)
Other components
BGA Studio game components reference
Game components are useful tools you can use in your game adaptations.
Undocumented component (if somebody knows please help with docs)
BGA Studio user guide
This part of the documentation is a user guide for the BGA Studio online development environment.
Join the BGA Studio developers team
To start developing on BGA Studio and get access to development environment, you need to create an account below.

Personal infos provided in this form is NOT shown to anyone but BGA Studio admin, and is NOT used for any other purpose that BGA Studio organization.
Hi everybody,
I see there is a functionality on BGA to summon the IA nicknamed "BGA Robot" at Can't Stop.
I am curious, say I have developed the game X. Is there a way to write a piece of code dedicated on actions that an AI would take? And this way make my game X available to invite the BGA Robot to play with me/us?
If it is possible, I assume it is like writing the zombie dedicated functions, but adding a true AI logic more or less complete (just instead of making a zombie which generally sole action is to pass). The key difference is that it would not only be called when a player leaves the game. Put differently, it would be developing the behaviour of BGA Robot for this game.
Does the framework permit that? (I have not checked the code for Can't Stop yet to see if this is allowed and implemented at this level)
My question is not about the way to effectively write that AI, this is up to the developer and his skill, I was just wondering on how connect this to the framework to make that functionality available (even if the AI I would create is totally nuts...).
Thanks
Woodruff
I'm noticing some unexpected behaviour client-side during multiactiveplayer states. I'm using this.restoreServerGameState() to cancel client-side states. However, whenever I use it the client seems to think the player is not one of the 'active' multiple players.

I notice that both onEnteringState() & last_server_state do not have 'multiactive' array populated after transitioning to a multiactiveplayer state. But if I refresh the page 'multiactive' array is populated and restoreServerGameState() works as expected. I'm not sure if its related.

am using this method incorrectly? is there an alternative?

thanks
A bug report has been raised against my game:
https://imgur.com/a/wzRsC1n
https://boardgamearena.com/bug?id=14374
The weird thing is, that the game hasn't even started, they are waiting in the auto-mode lobby. Every 1 second the message appears. It comes from the JS onUpdateActionButtons(): being called with 'stateName=gameSetup' as a parameter.
why is the onUpdateActionButtons() function being called every second before the game has begun?