Welcome to Board Game Arena's online development platform!
Getting started
4 slideshare presentations to get ready to use BGA Studio in 30 minutes:


Reference Documentation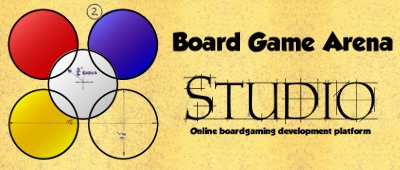 Note: Please DO NOT translate Studio Documentation, so that there can be one place where you can find the latest information available.
Discover BGA Studio in 5 presentations
Why, how, what... to start discovering BGA Studio, we prepared 5 "powerpoint" presentations for you:
Great, I'm in! ... How should I start?
If you didn't already, check the presentations at the top of this page to get the basics.
Then, you should checkout the First steps with BGA Studio to make sure that runs fine.
After that, we strongly advise you to take one of these game creation tutorials:
Then start editing files and see what happens! ;)
Once you're done with tutorials, you can start a real game (or join existing project)
If you have any questions, please check out the Studio FAQ or Contact BGA Studio.

To search wiki pages on studio enter this text in search bar:
 "Category:Studio" white rabbit 

That is if you want to search for white rabbit
BGA Studio documentation
BGA Studio Framework reference
This part of the documentation focuses on the development framework itself: functions and methods available to build your game.
Game logic (Server side)
Game interface (Client side)
Other components
BGA Studio game components reference
Game components are useful tools you can use in your game adaptations.
JS:
PHP:
Reference for classes in game class hierarchy
BGA Studio user guide
This part of the documentation is a user guide for the BGA Studio online development environment.
Lifecycle

Tools and Advice
Sharing
Software Versions
Versions currently used by BGA framework:
PHP Extensions Used
The following PHP extensions are - as of May 8th, 2022 - in use in BGA Studio and available:
date
libxml
openssl
pcre
zlib
filter
hash
Reflection
SPL
session
standard
sodium
apache2handler
mysqlnd
PDO
xml
apcu
bz2
calendar
ctype
curl
dom
mbstring
FFI
fileinfo
ftp
gd
gettext
gmp
iconv
igbinary
json
exif
msgpack
mysqli
pdo_mysql
apc
posix
readline
shmop
SimpleXML
sockets
sysvmsg
sysvsem
sysvshm
tokenizer
v8js
xmlreader
xmlwriter
xsl
zip
Phar
memcached
Zend OPcache
Join the BGA Studio developers team
To start developing on BGA Studio and get access to development environment, you need to create an account below.

Personal infos provided in this form is NOT shown to anyone but BGA Studio admin, and is NOT used for any other purpose that BGA Studio organization.
Hello, I am a new developer to BGA with a decent background in web design. I am looking to implement Bullet <3 on the platform. Bullet is a fast paced real time puzzle game where players simultaneously take actions over 3 minute rounds. The core of the game is relatively straight forward, but I don't think I have seen a game like this implemented before, where all players are doing actions at the same time. Is something like this possible, or has something similar been implemented before? Many thanks!
I talked with a developer and they filled out the permission form or whatever they need to do to grant access to the game, but I haven't seen it pop up on the available licenses list. It has been about two weeks. I am just wondering how long that process usually takes.
Hi,

I didn't found what I was looking for in the doc, so : is there something to do code side to make games available in real time and turn based ? Or will it work in both mode without anything to add ?

Thanks for your help !