Welcome to Board Game Arena's online development platform!
Getting started
4 slideshare presentations to get ready to use BGA Studio in 30 minutes:


Reference Documentation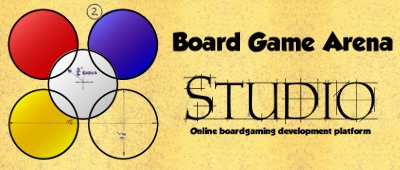 Note: Please DO NOT translate Studio Documentation, so that there can be one place where you can find the latest information available.
Discover BGA Studio in 5 presentations
Why, how, what... to start discovering BGA Studio, we prepared 5 "powerpoint" presentations for you:
Great, I'm in! ... How should I start?
If you didn't already, check the presentations at the top of this page to get the basics.
Then, you should checkout the First steps with BGA Studio to make sure that runs fine.
After that, we strongly advise you to take one of these game creation tutorials:
Then start editing files and see what happens! ;)
Once you're done with tutorials, you can start a real game (or join existing project)
If you have any questions, please check out the Studio FAQ first, then if you didn't find the answer you were looking for, please post your question on the development forum.
BGA Studio documentation
BGA Studio Framework reference
This part of the documentation focuses on the development framework itself: functions and methods available to build your game.
Game logic (Server side)
Game interface (Client side)
Other components
BGA Studio game components reference
Game components are useful tools you can use in your game adaptations.
Undocumented component (if somebody knows please help with docs)
Reference for classes in game class hierarchy
BGA Studio user guide
This part of the documentation is a user guide for the BGA Studio online development environment.
Join the BGA Studio developers team
To start developing on BGA Studio and get access to development environment, you need to create an account below.

Personal infos provided in this form is NOT shown to anyone but BGA Studio admin, and is NOT used for any other purpose that BGA Studio organization.
Should requesting Read-Only access to a game in Studio make the source code visible in SFTP?

If not, is there a way to get source code access to games in Studio that allow Read-Only access?

In particular I'd like to view the source code to Nippon.

Thanks,
Brad
I have a few strings in game options that are just Arabic numerals (e.g. "1", "2", "3", etc.). Since they are displayed to the user, I wrapped them in "totranslate" like everything else. But, I got a (reasonable) suggestion to remove these from the translation system, since Arabic numerals are recognized in all modern languages (even in languages that also have alternate symbols).
I remove the "totranslate" wrappers from these strings (in gameoptions.inc.php), but the change didn't seem to have any effect. The items are still in the translation system after nearly a week.
Is this expected? Is there some trick to cause these to go away? Or should I just give up and let them stay?
The game is Letter Tycoon.
Example can be found here (for the numeral "4"):
https://boardgamearena.com/translation? ... _US&find=4
See this bug/suggestion:
https://boardgamearena.com/bug?id=28251
And this thread in the Translation forum:
viewtopic.php?f=11&t=18304
Hi everyone,
Nice to meet you here!
I'm Terry from Asteria Games (
https://www.asteriagames.com
). We are currently working on a Kickstarter project - a family card game (of which I will send interested party the rules). We want to hire a freelancer to make the BGA version of it. Details below:
1) In the early stage, it will be used as a prototype for online play-testing, so
constant adjustments and graphic changes are expected
.
2) ideally it would be
finalised at the end of December
, so we can produce actual demo copies and send to reviewers.
3) We pay either
through freelancer platform
(e.g. upwork)
or to your company
(in this case you will provide invoice and receipt to us).
If interested and confident in the job, please
send me an email
(
asteriagameshk@gmail.com
), ideally with links to your related portfolio, to let us consider a cooperation.
Best Regards,
Terry