Welcome to Board Game Arena's online development platform!
Getting started
4 slideshare presentations to get ready to use BGA Studio in 30 minutes:


Reference Documentation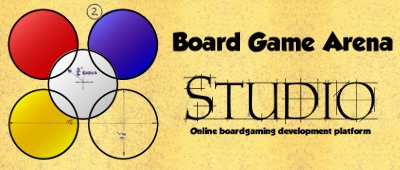 Note: Please DO NOT translate Studio Documentation, so that there can be one place where you can find the latest information available.
What is Board Game Arena Studio?
Board Game Arena Studio is a platform to build online board game adaptations using the Board Game Arena platform.
It is open to any gamer with software development skills :)
BGA Studio website: https://studio.boardgamearena.com
Original announcement on BGA forum: https://forum.boardgamearena.com/viewtopic.php?f=10&t=1973
Discover BGA Studio in 5 presentations
Why, how, what... to start discovering BGA Studio, we prepared 5 "powerpoint" presentations for you:
How to join the BGA developer team?
Please see this page: How to join BGA developer team?
Great, I'm in! ... How should I start?
If you didn't already, check the presentations at the top of this page to get the basics.
Then, you should checkout the First steps with BGA Studio to make sure that runs fine.
After that, we strongly advise you to take one of these game creation tutorials:
Then start editing files and see what happens! ;)
Once you're done with tutorials, you can start a real game (or join existing project)
If you have any questions, please check out the Studio FAQ or Contact BGA Studio.

To search wiki pages on studio enter this text in search bar:
 "Category:Studio" white rabbit 

That is if you want to search for white rabbit
BGA Studio documentation
BGA Studio Framework reference
This part of the documentation focuses on the development framework itself: functions and methods available to build your game.
Game logic (Server side)
Game interface (Client side)
Other components
BGA Studio game components reference
Game components are useful tools you can use in your game adaptations.
JS:
PHP:
Deck: a PHP component to manage cards (deck, hands, picking cards, moving cards, shuffle deck, ...).
Reference for classes in game class hierarchy
Table: a PHP class that you inherit from for the game php
BGA Studio user guide
This part of the documentation is a user guide for the BGA Studio online development environment.
Lifecycle

Tools and Advice
Sharing
Software Versions
Versions currently used by BGA framework:
PHP Extensions Used
The following PHP extensions are - as of May 8th, 2022 - in use in BGA Studio and available:
date, libxml, openssl, pcre, zlib, filter, hash, Reflection, SPL, session, standard, sodium, apache2handler, mysqlnd, PDO, xml, apcu, bz2, calendar, ctype, curl, dom, mbstring, FFI, fileinfo, ftp, gd, gettext, gmp, iconv, igbinary, json, exif, msgpack, mysqli, pdo_mysql, apc, posix, readline, shmop, SimpleXML, sockets, sysvmsg, sysvsem, sysvshm, tokenizer, v8js, xmlreader, xmlwriter, xsl, zip, Phar, memcached, Zend OPcache
Other resources
Bug tracking system FOR STUDIO issues and APIs
DISCORD chat server/room invite link https://discord.gg/YxEUacY if it does not work check this topic https://forum.boardgamearena.com/viewtopic.php?f=12&t=17403&hilit=discord
Developer BLOGS https://bga-devs.github.io/blog/
Join the BGA Studio developers team
To start developing on BGA Studio and get access to development environment, you need to create an account below.

Personal infos provided in this form is NOT shown to anyone but BGA Studio admin, and is NOT used for any other purpose that BGA Studio organization.
I guess that my question is a newby question.
In Setting up BGA Development environment using VSCode / "Intellisense - Navigation/Auto-complete" / PHP Intellisense,
It is proposed to modify the global user settings.
How can we access to those global user settings ?
thanks !
Hello
I wanted to know how we can ask for a test session with volunteers to test a game? The game being played on 6-12 player.
For now, I almost finished developing the role selection phase of Mafia de Cuba, but I'm merely asking how such tests are conducted? (Are they organized on the forum, is there a button to automatize the process of asking or are no such tests conducted (and devs use their 4 dev accounts)
Thanks !
I expect this to be a bit expensive, as my card game is very cool, but kind of complex. It's a deck builder like dominion with extra combo's on the cards, and with variable starting powers that you pick before the game starts. It has two main game modes, one for beginners or light players where the cards are selected at random from 3 decks, and one where you take turns drafting and banning cards that you would play with. I can not go over 4000 dollars, but let me know what range you are thinking of here. I understand that designing something like this can take quite some time, but I am looking for a rough quote for cost to make, as well as rough time frame. If you are willing to mention any experience you have with programming or other previously successful Board Game arena projects you have completed, this is not essential, but would be nice to know. Thanks in advance, I look forward to hearing from you, and have a good day.