Welcome to Board Game Arena's online development platform!
Getting started
4 slideshare presentations to get ready to use BGA Studio in 30 minutes:


Reference Documentation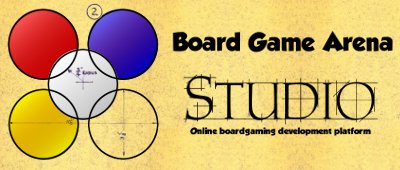 Note: Please DO NOT translate Studio Documentation, so that there can be one place where you can find the latest information available.
Discover BGA Studio in 5 presentations
Why, how, what... to start discovering BGA Studio, we prepared 5 "powerpoint" presentations for you:
Great, I'm in! ... How should I start?
If you didn't already, check the presentations at the top of this page to get the basics.
Then, you should checkout the First steps with BGA Studio to make sure that runs fine.
After that, we strongly advise you to take one of these game creation tutorials:
Then start editing files and see what happens! ;)
Once you done with tutorials, you can start a real game (or join existing project)
If you have any questions, please check out the Studio FAQ first, then if you didn't find the answer you were looking for, please post your question on the development forum.
BGA Studio documentation
BGA Studio Framework reference
This part of the documentation focuses on the development framework itself: functions and methods available to build your game.
Game logic (Server side)
Game interface (Client side)
Other components
BGA Studio game components reference
Game components are useful tools you can use in your game adaptations.
Undocumented component (if somebody knows please help with docs)
BGA Studio user guide
This part of the documentation is a user guide for the BGA Studio online development environment.
Join the BGA Studio developers team
To start developing on BGA Studio and get access to development environment, you need to create an account below.

Personal infos provided in this form is NOT shown to anyone but BGA Studio admin, and is NOT used for any other purpose that BGA Studio organization.
I noticed an empty function called onScreenWidthChange() in gameui. Can we use it or is reserved for other reasons? I can't find any documentation regarding it.

It appears better to use than onresize since it triggers when the playing area size changes even though the window has not. For example switching between log_mode = normal to 2cols

thanks
Inside .JS, For a multiplayer action. I am noticing some strange behaviour with 'active' player functions.
I am trying to implement some 'user changes their mind' functionality.

1.
within: onEnteringState: function( stateName, args )

the this.isCurrentPlayerActive() is not set to true during normal game flow.
If the page is refreshed via F5, then this.isCurrentPlayerActive() does come back as true, and all works ok.

2.
Also, the this.checkAction('action_name') works fine when the player is active, but if the player is not active then this returns false.
The wiki doc suggests that this checks the game state, and doesn't say anything about the player being active or not. I can't find anything specific for checking the game state for JS.
Hi all,
I'm part of the Schmeta Games team. We are currently in a process of releasing our very first game (named
Gangsta!
) after a successful Kickstarter campaign. Gangsta is a 2-4 players card game with a lot of interaction between players. More information on
http://www.schmetagames.be/en/gangsta.php
.
Since I love playing on BGA, I would be so pleased to add our game to the BGA's collection. We are of course ready to pay for this development (although the sky is sadly not our limit on this matter).
Here are some additional information which might help you to understand how feasible it would be, technically speaking.
1. Rules (EN) :
http://www.schmetagames.be/resources/pd ... les-EN.pdf
2. Gameplay video (EN) : check our video in the Gameplay section from our KS page :
https://www.kickstarter.com/projects/1316370263/gangsta
Many thanks in advance !
Kind regards,
Lokhir / Yves